What would you #KEEPLouisville? Tell us during Preservation Month!
Introducing the #KEEPLouisville campaign! Our historic buildings create the fabric of Louisville's cultural landscape. Tag your photos of favorite places, buildings, and sites with #KEEPLouisville on social media and help us celebrate #PreservationMonth! Every person who tags at least one photo during the month of May will be entered into a prize drawing, to be drawn at our lunchtime webinar event on Thursday, May 27! SCROLL DOWN for #PreservationMonth walking tour information and webinar events!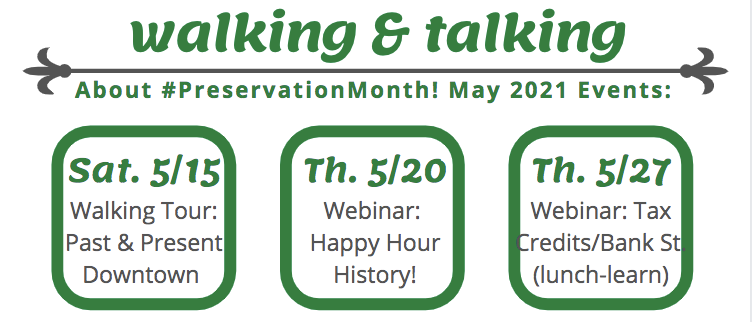 Join us for these #Preservation Month Events!
Sat. May 15, 11 AM: Downtown Loop Walking Tour with Urban Design Studio. More details on this collaborative event here. As of Friday 5/13 morning, the maximum group size for this tour has been reached. Contact us to be added to the waiting list! HERE is the Facebook event page. A great summary of the route can be found here!


Thurs. May 20, 5 PM: WEBINAR / Happy Hour History: Victorian Cocktails!
Vital Sites is launching Happy Hour History, a new monthly webinar series! Join us every Third Thursday for fun and educational history-related topics!
For the first event, we'll focus on Victorian Cocktails! Mix along with Brian Cushing, Mixology Historian, as he takes us through the evolution of spirits in the 1880s. Check out his teaser trailer for his new YouTube series!
Please register via Zoom, and the cocktail ingredient list will be emailed after registration. Cheers!


Thurs. May 27, 12 PM: WEBINAR / Lunch & Learn: Historic Tax Credits with Kentucky Heritage Council and Preservation Kentucky. Zoom registration link soon!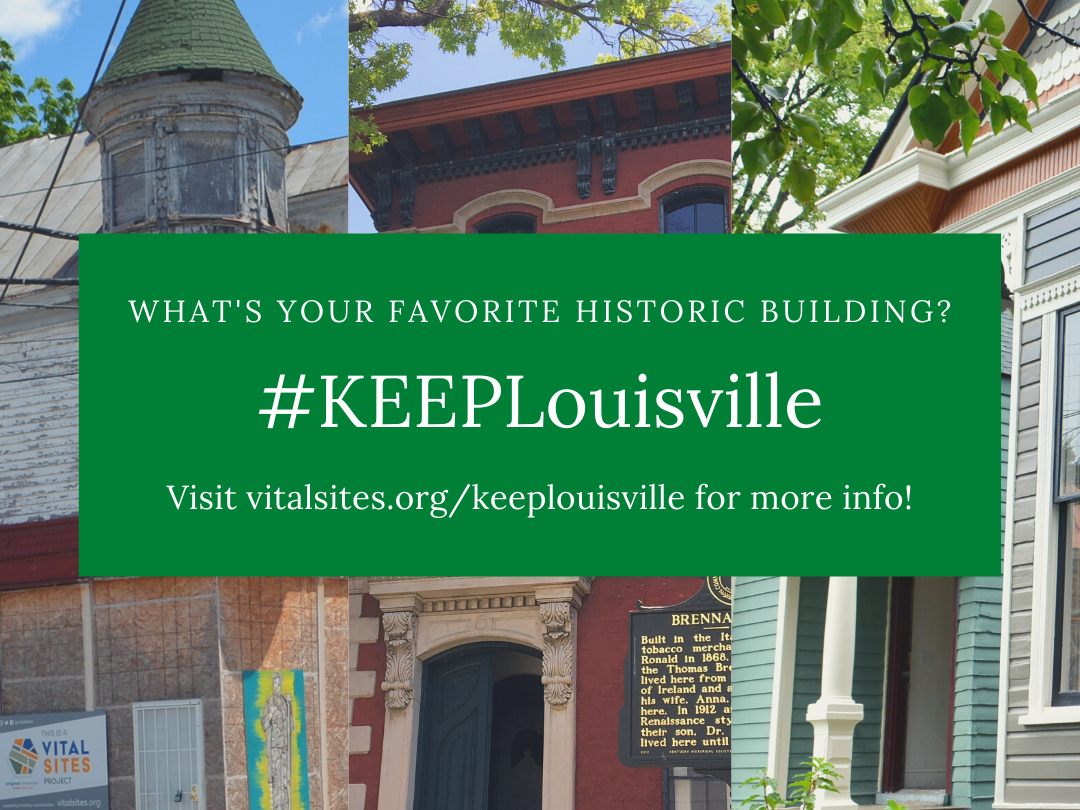 Imagine strolling down Museum Row without being able to look up at the fanciful and strong cast-iron facades. (Similarly, what if Whiskey Row was demolished instead of restored?) Or think about how you would feel if your favorite shopping district was leveled for another strip mall or parking lot. Louisville is well-known for our amazing local shops, restaurants, and businesses. Everyone has that favorite neighborhood spot to meet up with friends after work or celebrate with family members. Local independent businesses are more likely to reinvest in their communities. Therefore, let's focus on places you've found that you'd love to #KEEPLouisville! Preservation positivity!
What historic building do you admire for its architectural features?
What's the best park to go jogging or walk the dog?
What local shop always has that perfect gift?
Where do you love to get takeout?
How can YOU participate in our #KEEPLouisville campaign?
Pick one or more:
If there's a place you LOVE in your neighborhood or community, snap a photo and use the hashtag #KEEPLOUISVILLE. That's it! If you already use tags on great places in Louisville, please consider adding one more. Let's flood the tag with images of the buildings and sites and places that you want to KEEP around in Louisville!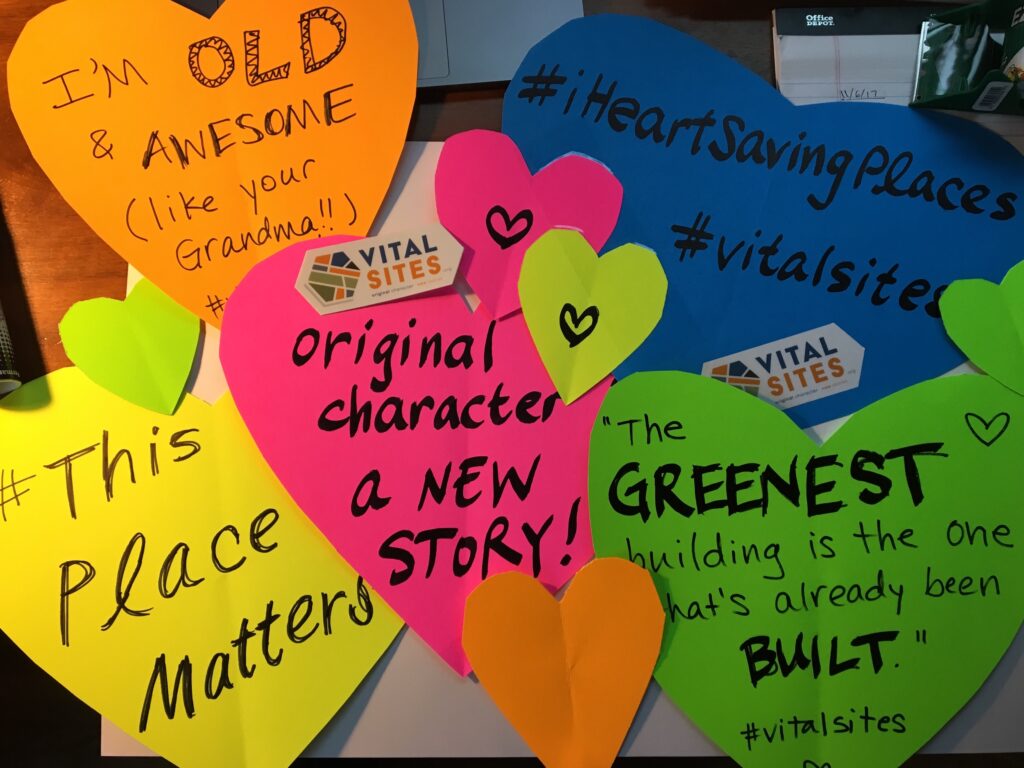 Vote with your feet and your wallet! It's important to highlight our shared history in Louisville, but we also encourage you to support local. Plan to visit your favorite LOCAL shops, galleries, restaurants, and other businesses and SUPPORT them! If you need ideas, check out the Louisville Independent Business Alliance directory, or look through the First Friday Hop member list.
If you use social media, find images of lost landmarks, buildings, restaurants, etc. in Louisville and post with the hashtag #LOSTLOUISVILLE. Access the online digital collection at the University of Louisville or use Google Earth to go back in time on street views! For instance, maybe you could share personal snapshots or postcards or other ephemera of historic buildings that are no longer standing. This story map from UofL is quite fascinating!
In conclusion, let us know!! Email us to share your favorites: info@vitalsites.org In addition, you can reach out to our local preservation friends, Louisville Historical League and NPP Kentuckiana.