The classic corner store reimagined as creative live-work spaces!
Read this informative blog post about the project and history of the building: The Corner Store – The Original Live-Work Place
The former Schweitzer Pharmacy building was listed on the National Register in Feb. 2021!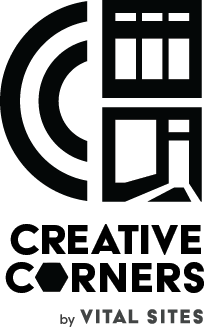 Vital Sites recognizes the importance of the corner store in the development pattern of Portland and other historic neighborhoods. In the days before the car, they were the commercial life blood of a walkable neighborhood. Although they currently may not be commercially viable, the corner store offers a unique opportunity for a live/work environment that might have appeal, especially to the creative individual. One or two units redeveloped above a shared creative workspace could provide a reuse strategy that benefits both the building type and neighborhood redevelopment long term.
Vital Sites sees this as an opportunity to retain this important building type as a useful, functional component of a thriving neighborhood and has approached donors about contributing to this effort.
Our next project: The pictures to the right depict 2565 Bank Street in Portland, the former Schweitzer Pharmacy at the corner of Bank and 26th. A Portland investor approached Vital Sites when it was announced that the historic building was in danger of demolition.
The building has been inspected by an engineer, contractor, and architect and found to be in fair condition – not a demolition candidate!
Scope of work for stabilization has been prepared and is out for estimates
Grant secured for stabilization work, and Vital Sites is actively seeking a match
We are seeking an end user to purchase the building once it has been stabilized. Please contact us if interested!

The Creative Corners model is one that can be repeated across the city, in many different neighborhoods, since this building type was common in all communities. Not all were retail stores – maybe taverns or pharmacies – but most had living space on the second floor for the owners or operators.
It was the original mixed-use building!
Since Vital Sites took ownership of the building, the roof has been repaired and stabilization work has begun in the basement. The corner store entrance has been uncovered and exterior painting is in progress to help protect its original wood siding.