What are the #VITALSITES in your community?
What places matter to you and your neighbors?
Share with us!
The National Trust for Historic Preservation promotes a Heart Bomb campaign during the month of February. What are heart bombs? They are love letters to historic places that appear at historic sites nationwide, on local landmarks, and around places both safe and threatened.
Through the end of February, Vital Sites invites YOU to join the campaign and help us heart bomb Louisville! It's not just the landmark buildings that tell the story of your community – it's your favorite libraries, parks, restaurants, coffee shops, churches, mom-and-pop shops, schools, or homes! What places do you love?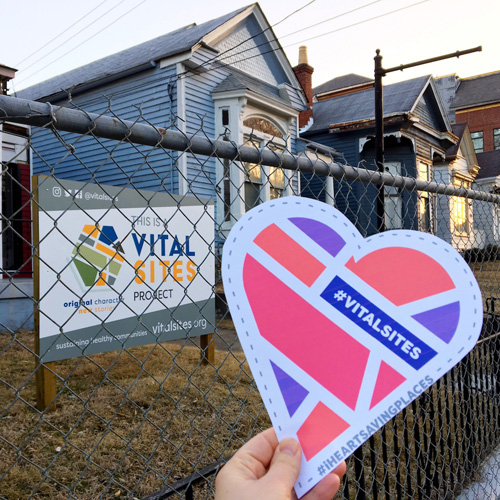 Getting started is easy:
Download signs here, or make your own! Be creative!
Include your signs in a photo of your favorite places around town.
Share on social media with the hashtags #HeartBombLou (local) and #iHeartSavingPlaces (national). Add #VitalSites too!
If you're not on social media, send photos via email for us to share: info@vitalsites.org 
JOIN US FOR OUR CONCLUDING EVENT:
On Saturday, February 29, we'll celebrate the end of the campaign. More details soon!
"Great buildings that move the spirit have always been rare. In every case they are unique, poetic products of the heart."
Arthur Erickson
PDF Template for Heart Bomb LOU – HeartBombLOU-2020
JPG Template for Heart Bomb LOU – HeartBombLOU-2020