Happy Hour History Highlights: Historic Sites Near You!
Did you miss Happy Hour History: Historic Sites Near You! on June 17? Well, great news: you can watch the recording HERE. Or maybe you wanted to check out those links mentioned without re-watching the episode? Keep reading! But first, we invite you to check out all of our recordings so far at our new videos page. Then, stay up to date on our Happy Hour History series by looking at the #KEEPLouisville page. Displayed near the top are the newest events – register now for our July 15 episode: Live from the Archives!
It's Happy Hour! Cheers to history!
Brian Cushing, mixology historian, started our episode off with a cocktail demo of an 1840s-era mint julep, written down by a bartender in Louisville. This cocktail, containing cognac, rum, and port – no bourbon! – does not resemble its modern counterpart at all! You can access Brian's current web series, The Victorian Barroom, here on YouTube. He is also on Instagram at @notesfromthevictorianman. (The book he mentioned is Imbibe! by David Wondrich.)
Meet Metro's Story Map: a new preservation planning tool
Cynthia Johnson Elmore and Savannah Darr work for Louisville Metro's Historic Preservation & Urban Design team (under Planning & Design). That link also provides information on the local preservation districts, individual landmarks in the city, and design overlay districts. Finally, the Story Map can be accessed via this link, which also provides a downloadable list. Clicking here or on the picture below will take you directly to the map: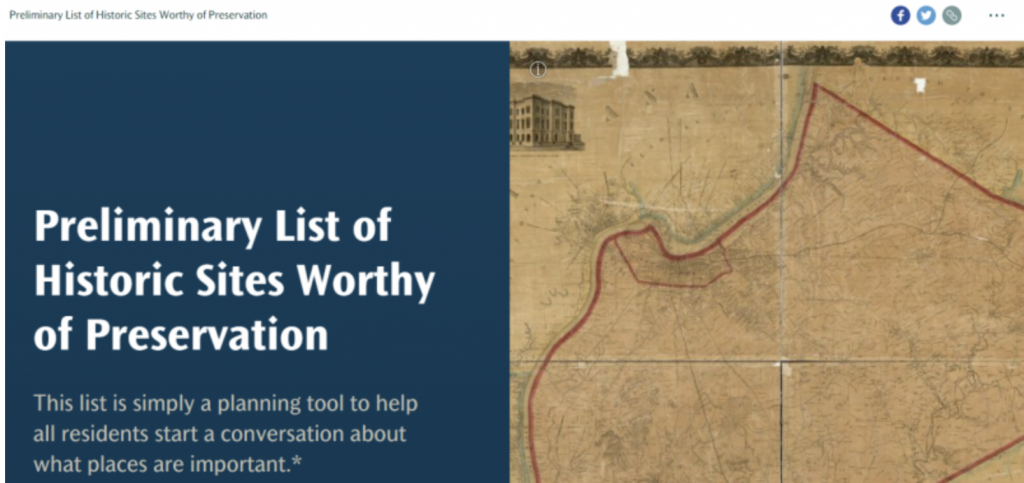 This statement is important: Please note that the list does not include any structures/sites located currently within Louisville's seven Local Preservation Districts or that already have been designated as Individual Landmarks. These structures and sites are already protected under Metro's historic preservation regulations.
After exploring the map, you can provide feedback and/or suggest other sites and buildings via this comment form. Do you know of a building or site that should be included on the map?
Maps, maps, and more maps!
The conversation turned to other great maps for research in Louisville. LOJIC is a wonderful resource for exploring! Clicking into the main LOJIC map and searching an address in the upper left provides detailed property information including parcel numbers, owner names, neighborhood, and more. Or take a further step and access the 'layers' tab on the right and select 'preservation' as indicated in the image below. Next, in the drop down menu under 'preservation,' check either or both boxes for local historic preservation districts (green on the map) and/or National Register of Historic Places districts and individual listings (brown on the map).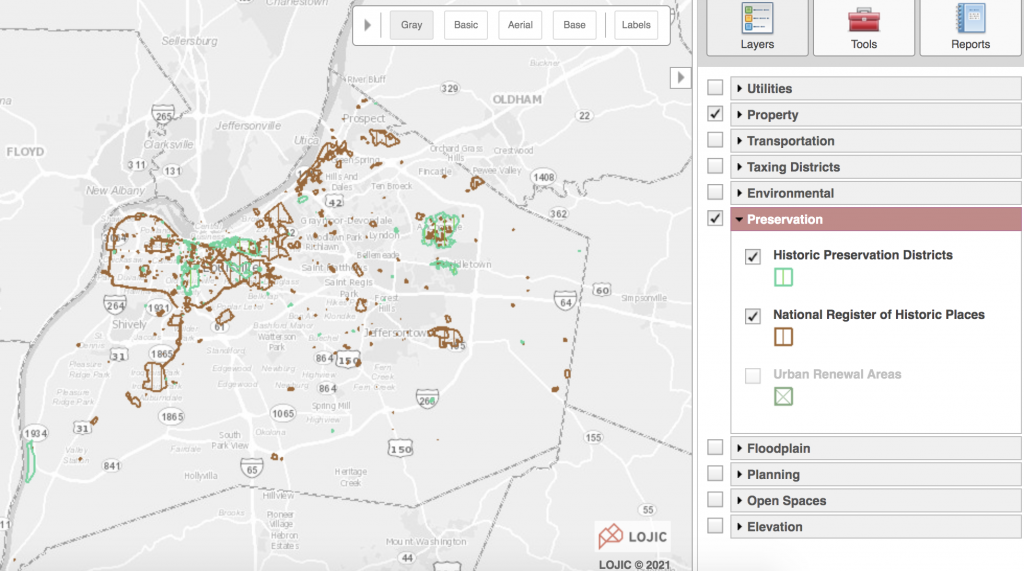 Research your home from home!
Last spring, Vital Sites published a mini-series of 3 blog posts to help you research your home from home, accessing resources online. (Links within the posts may require a Louisville Free Public Library card):
City directories (Part 1)
Maps, including local atlases and Sanborn fire insurance maps (Part 2)
Historical newspaper archives, in particular the Courier-Journal (Part 3)
Photography archives
A participant commented that the University of Louisville has an extensive photography archive online. Several collections include photos of historic buildings and sites. You can search the digital collections here.
On July 15, Happy Hour History is Live from the Archives! Join us via Zoom as Elizabeth Reilly and Terri Holtze from the University of Louisville show us around the library and share an archival photography story map called Lost Louisville.